How Do I Get My Condo Building to Install an EV Charging Station In My Parking Spot?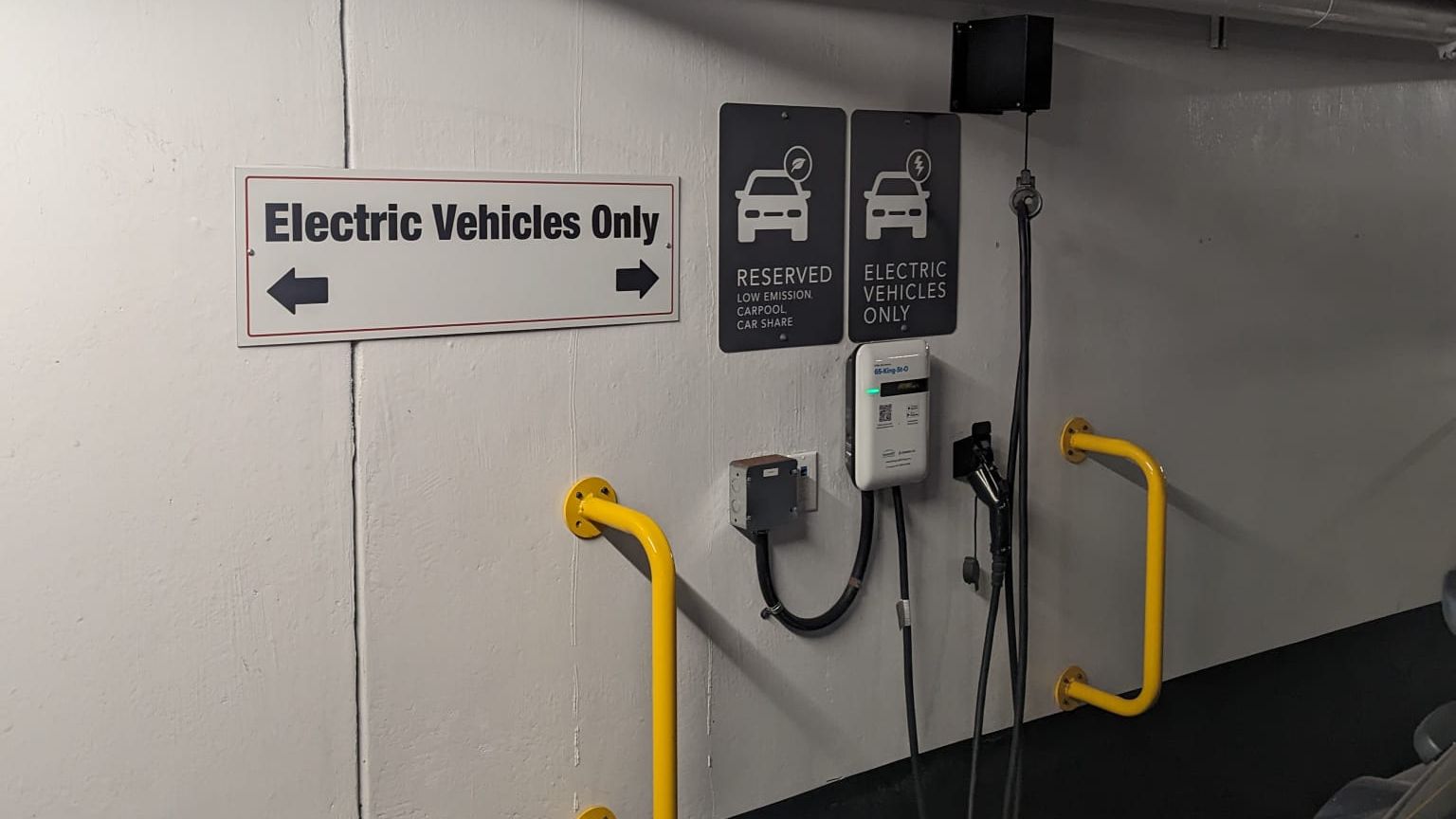 If you are looking to install an EV charging station in your condo parking spot, collaboration with many stakeholders is required: at a minimum you will need to get your condo board and property manager involved, but likely other building residents as well.
Below, we explain some key considerations when you are trying to get your building to install an EV charging station network so you can get power to your parking spot.
IMPORTANT INFORMATION FOR CONDO OWNERS:
If you are a condo owner in Ontario, you have rights under the Condominium Act, 1998 (Ontario) to apply to install an EV charging station in your parking spot for your own use. This is also known as Ontario's "Right to Charge" legislation.
Your condo board may only reject an application due to limited reasons. In practice though, it is almost always preferable to work collaboratively with your condo board and property manager to install a number of EV charging stations at once. This is because the fixed costs of installation can be spread across multiple condo owners.
Below we explain the process for working with your condo building.
Is there a spare circuit breaker in any of the common elements' electrical panels?
The addition of an EV charging station requires that your condo or apartment have electrical capacity and space in its existing circuit breakers to connect your EV charger to. If there is no spare circuit breaker, additional electrical infrastructure is required.
If there is already infrastructure in place from an existing EV charger network or other electrical equipment, you may be able to install the EV charger without additional infrastructure cost.
In cases where there is no electrical capacity (i.e. all available amperage is dedicated to other equipment) your condo may need to work with the city to install additional electrical capacity.
When additional infrastructure is required, who will manage the installation process?
For additional infrastructure, EV charging network installers will need to install various pieces of equipment including electrical panels, transformers, conduit and wiring, WiFi extenders and EV charging stations. These contractors will require access to the electrical room or sub-electrical room, the parking lots and the specific units. They may also have to access common elements like elevators and hallways.
If the Condo Corporation Chooses to Manage the Installation Process
Due to condo by-laws and security concerns, some condo corporations may choose to manage the installation themselves, as opposed to relying on a single contractor to provide the equipment and be responsible for the installation. Because condo boards are not as experienced as professional EV charging installation companies, the project may take more time and may end up costing more overall.
If the owner has to manage the installation process.
If the condo corporation does not want to be involved, the owner will be responsible for coordinating all aspects of the installation, from obtaining the necessary permits to hiring contractors and overseeing the actual installation work. It's important for the owner to be well-informed about the specific requirements and regulations related to EV charger installations in condos.
We recommend seeking professional advice or consulting with expert EV charger installers to ensure the project is carried out in-line with regulations, and as cost-effectively and efficiently as possible.
Information Gathering
The condo owner will need to gather all necessary information in respect of the installation, including:
Condo address and unit number

Drawings of the proposed installation

Specifications of the proposed installation

Location of the proposed installation
Once this information has been collected, the owner must submit an application to the condo board for approval.
Application to the Condo Board to Install and EV Charger
The owner will need to submit an application to the condos board of directors. The application must include drawings, specifications and information relating to the proposed installation.
In certain cases, notice must be given to the other owners and their approval must be obtained prior to the change being implemented.
Once an Application is Submitted, the Condo Board Must Respond Within 60 Days
Once the condo owner has submitted all the proper paperwork, the condo board will have 60 days to formally respond to the application.
As mentioned above, Ontario "right to charge" legislation protects EV owners who want to install EV chargers in a condo. As a result, the corporation can only reject the application request for installation if, based on the opinion or report of a qualified professional:
The installation would be in violation of the Condo Act, or any other legislation

The installation would adversely affect the structural integrity of the property

The installation poses a health and safety risk to the property and its occupants.
Takeaways:
Ensuring a smooth and efficient installation of an EV charger in your condo involves considering several key factors. These include understanding the building's infrastructure, any existing EV chargers, and the necessary documentation for approval from your condo corporation.
Having the right documentation on-hand can save you both time and potentially money. This process may present some challenges, but with the right knowledge and support, you can navigate it effectively.
Did you know condo and apartment buildings in Ontario are eligible for government funding to offset the cost of installing an EV charging network? Exploring the possibility of receiving an Ontario EV charger rebate which can offset your costs.
For a detailed dive into various condo EV charger installation projects, please see our completed EV charger condo projects.